The pandemic has caused a shift in the way we work, with more people working from home than ever before. As we look to the future, it's clear that technology will continue to transform how we work, both in and out of the office. Join us as we explore how technology has impacted the hybrid and remote workforce.
Increased productivity
Technology has played a crucial role in enhancing productivity while working from home. A Stanford University case study found that employees who worked from home for nine months were 13.5% more productive than their office counterparts. Another study by ConnectSolution found that 77% of remote workers say they're more productive when working from home, with 30% doing more work in less time and 24% doing more work in the same period.
Technology has been instrumental in increasing productivity while working from home. With advancements in technology to revolutionize working from home, such as virtual and augmented reality, digital whiteboards, and advanced video conferencing tools, we can expect even more solutions to help remote teams work efficiently and effectively in the future.
HP is committed to helping the remote workforce by providing advanced technology solutions that enable seamless remote work. One example is our focus on providing home office tech for hybrid work success. With the rise of remote work due to the pandemic, HP has recognized the need for high-quality technology solutions to help workers transition between home and office environments. HP offers a range of products and services to support remote workers, including a powerful laptop like the HP Dragonfly Pro, the user-friendly HP 710 rechargeable wireless mouse, or an all-in-one printer like the HP ENVY 6000.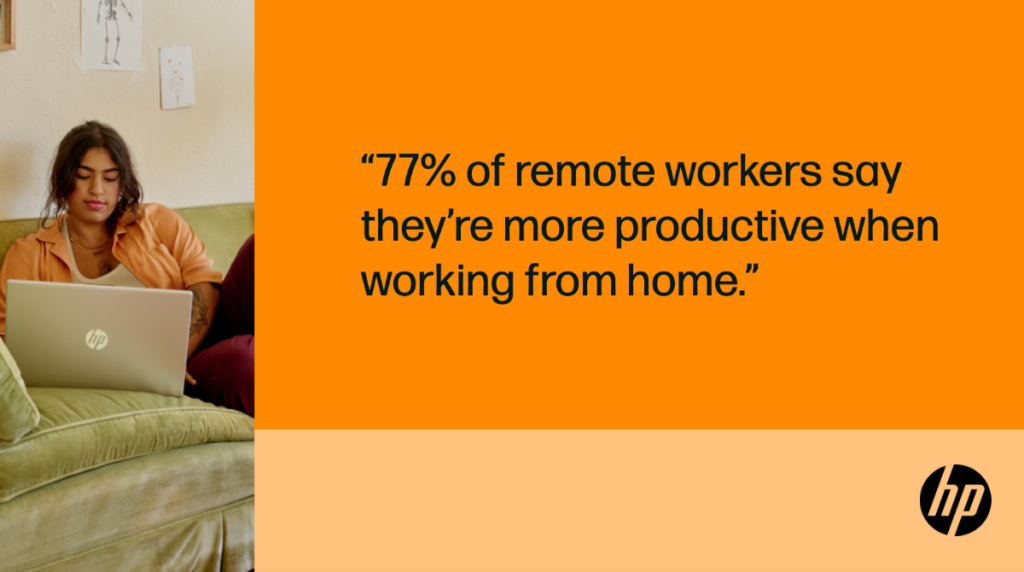 Video conferencing boom
Over the past three years, video conferencing has restructured how we work from home, enabling us to stay connected with our colleagues despite being physically distant. With the increased use of technologies like Zoom and Microsoft Teams, people can now conduct face-to-face meetings, collaborate on projects, and attend training sessions without being in the same room. Video conferencing has made remote work more manageable and reduced the isolation many remote workers face.
A study by HP Tech Ventures portfolio partner Owl Labs found that 71% of remote workers find it easier to present on a video call than in person and feel more connected to their team when they use video conferencing. By seeing each other's faces and body language, employees can build stronger relationships and better understand each other's perspectives, improving teamwork and productivity. Moreover, video conferencing has eliminated the need for long commutes and allows people to save time and focus on their work. Another study by Axios found that working from home saved workers around the world an average of 72 minutes in commute time every day in 2021 and 2022, leading to improved work-life balance and higher job satisfaction.
Streamlined communication and collaboration have been vital to keeping remote teams functioning smoothly. Technology has provided employees with a level of interaction never seen before. The influx of technology allows for effective employee engagement and entirely transforms communication norms. Video conferencing has become crucial in making remote work more manageable and connected. As more companies adopt remote work policies, video conferencing will continue to be vital for maintaining productivity, staying connected, and fostering teamwork.
HP acquired Poly last year, reinforcing our commitment to helping the remote workforce by providing advanced technology solutions that enable seamless remote work. We're leveraging our combined strengths with Poly to create a unique, pro-grade experience for hybrid workers. According to a study by Lifesize, video conferencing leads to productivity for 94% of companies. As video conferencing is paramount for hybrid work, we are excited to see how HP will incorporate Poly into its software and PC offerings. The Poly Studio Room Kits for Microsoft Teams Rooms can now be paired with the Microsoft Teams-certified HP Mini Conferencing PC with Microsoft Teams Rooms to deliver a complete solution experience for meeting rooms of any size.
Ctrl + Alt + Secure
As more people work remotely, cybersecurity has become a significant concern. Cybercriminals are constantly looking for new ways to exploit vulnerabilities and gain access to sensitive information. Companies and employees must work together to fend off cyber threats. Between 2008 and 2021, the FBI recorded a 207% increase in cybercrime reports, with losses hitting almost $7 billion last year. HP Wolf Security's Evolution of Cybersecurity report also details the rise of cybercrime and the importance of implementing advanced security measures.
As employees are often the last line of defense in an attempted cyber-attack, it is critical to equip them with the knowledge to recognize when such an attack occurs and what steps they should take to mitigate the threat. One of the most significant cybersecurity risks associated with remote work is using unsecured networks. According to the Norton Cyber Security Insights Report, 49% of people in the U.S. never use a virtual private network (VPN) when they connect to public Wi-Fi. To protect against this risk, remote workers should use a VPN to encrypt their data and prevent it from being intercepted. To minimize the risk of a data breach, remote workers should ensure that their devices are equipped with up-to-date antivirus software and that all software and operating systems are regularly patched and updated.
Overall, cybersecurity is critical when working from home. Remote workers should be aware of the risks associated with remote work and take appropriate measures to protect their devices and data. By using secure networks, regularly updating software, and utilizing strong passwords, remote workers can help minimize the risk of a cyberattack and ensure that sensitive data remains safe and secure.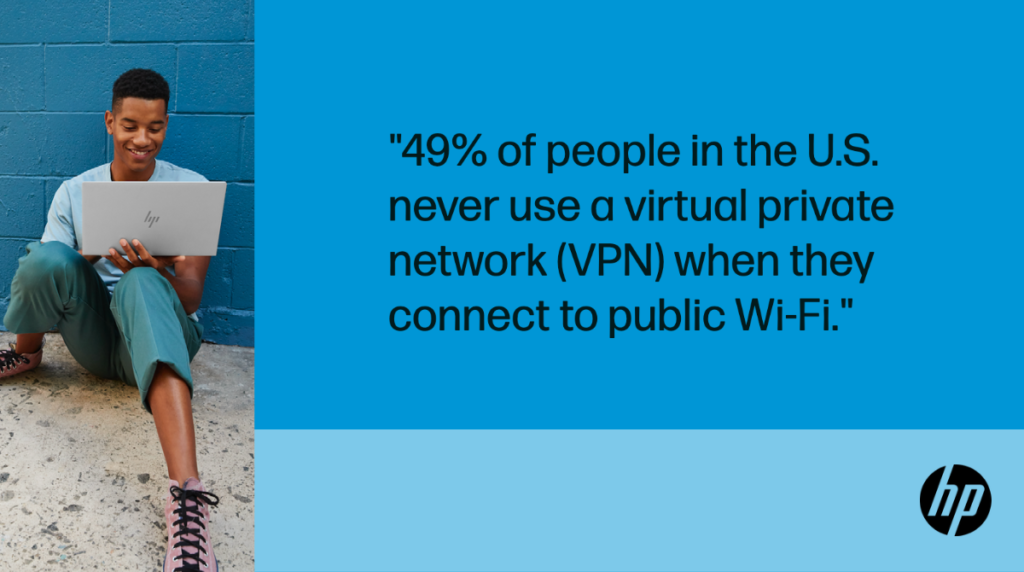 Technology is transforming how we work from home, with increased productivity, improved collaboration, and advanced cybersecurity measures. As we continue to adapt to a new way of working, it's clear that technology will play a vital role in ensuring that remote workers can work effectively and securely.