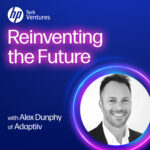 The future of personalized healthcare with Alex Dunphy
September 28, 2023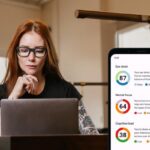 MindLink Air to Improve Cognitive Wellness and Productivity with All-Day Eye Tracking Glasses
December 6, 2023
Curious about what HP, HP Tech Ventures' partners, and portfolio companies have been up to? Read on for our latest recap!
The world is currently in an era of rapid retail innovation, and, thus, traditional shopping experiences are being redefined every day. AiFi is at the forefront of this retail revolution, bringing our autonomous store solutions around the globe. AiFi recently launched two new stores: one in Abu Dhabi, United Arab Emirates, and the other in Berlin, Germany.
Deep Instinct's Carl Froggett discusses the various challenges and trends of the IT landscape and how to combat sophisticated AI security threats.
Mojo Vision, the high-performance micro-LED company, announced it successfully powered the world's highest-density (14K ppi) red micro-LED microdisplay. The powering of the red micro-LED display is an important step in overcoming the challenges of delivering high-performance and reliable full-color micro-LED displays.
In 2023, Owl Labs produced State of Hybrid Work Reports across seven different countries and markets: US, UK, Germany, France, Netherlands, Nordics, and Global. From hybrid work to in-office and remote work policies, each report dives deep into workplace dynamics and how employers and employees alike are adapting to ever-changing environments.
PIXO VR has been granted a patent by the United States Patent and Trademark Office for the PIXO platform. PIXO's new patent – U.S. patent 7,166,998 – includes the design and development of Extended Reality (XR) workplace training Software as a Service (SaaS) and Platform as a Service (PaaS), and the deployment, management, and analytics of XR training software.
As the first PFP (Profile Picture) project to venture into the realm of Fortnite, 0N1 FORCE will be creating an exclusive map and interactive experience within the game. This innovative move not only demonstrates the project's commitment to pushing boundaries but also solidifies its position as a frontrunner in the NFT space.
Once relegated to dimly lit corners, gamers have emerged as the new rockstars of the digital age. As professional gamers ascend to celebrity status, Twikit explores the world of gaming peripherals and its remarkable transformation.  
The XR market is predicted to top more than $345B by 2023. The XR market has experienced growth across multiple industries, including education, training, entertainment, gaming, and more.
In this episode Reinventing with HP Tech Ventures, Alex Dunphy, chief executive officer and co-founder of Adaptiiv, discusses how Adaptiiv is working to provide the future of personalized healthcare, their powerful partnership with HP Tech Ventures, his path to entrepreneurship, and more.