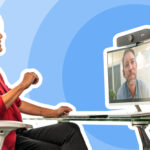 Investment and startup insights for the first half of 2023
June 28, 2023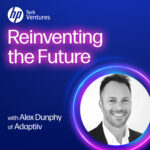 The future of personalized healthcare with Alex Dunphy
September 28, 2023
The XR market is predicted to top more than $345B by 2023. The XR market has experienced growth across multiple industries, including education, training, entertainment, gaming, and more.
Launched in 2013, PIXO, an HP Tech Ventures' portfolio company, helps seamlessly integrate XR training, from initial adoption to scaling across an entire organization.
Working with any headset and Learning Management System (LMS), PIXO provides a holistic view of training program performance, making it straightforward for companies to launch XR pilot programs and prove ROI.
We sat down with PIXO's Founder & Chief Executive Officer, Sean Hurwitz, to talk about his reason for starting the company, PIXO's company culture, and the key technology trends impacting the company's future.
HP Tech Ventures (HPTV): What inspired you to start PIXO?
Sean Hurwitz (SH): Having a background in industrial services, I recognized the ineffective and inefficient ways large companies trained their employees.  Being in the software gamification space early on with PIXO, we quickly identified a way to solve the training problems with VR and a scalable, enterprise-compliant content management platform, which did not exist then. We are passionate about providing the world with a safer and more effective way to do their jobs and are continually striving to break down the barriers and friction of VR adoption to help do so.
HPTV: What is the meaning behind the name PIXO?
SH: PIXOFACTOR was the original name when we were developing AAA games, then PIXO entertainment for smartphone apps, PIXO Group when we moved to more enterprise, and today we go by PIXO to continue the namesake, but everything we do falls under the PIXO brand.
HPTV: Tell us about PIXO's company values and vision.
SH: We are a very close team that finds value in learning and growing together. The better we are individually, the better team we are for our customers. We look to partner with companies that aim to put our people first. When we hire new team members, we look primarily at culture fit, values, and who they are at the core, no matter how long that takes. Typically, if we find that, we have found a long-term teammate.

HPTV: How does PIXO impact its customers' lives?
SH: Our solutions enterprises to empower employees to do their jobs more efficiently and reduce risk. If we can accomplish this, everyone wins—their company, families, and ultimately themselves.
HPTV: And what benefits does that provide to your customers, Sean?
SH: Most companies today seek a better, more innovative way to train their staff. This may mean looking for cost savings, ways to reduce accidents, or new types of training for younger employees,  who don't respond to traditional  training methods. By replicating real-life scenarios in VR, the trainees are exposed to scenarios they wouldn't have encountered in traditional training, which does not prepare them appropriately.  PIXO's product reduces, almost eliminates, the friction and breaks down the VR/AR adoption barriers for large companies to take advantage of XR solutions.
HPTV: Which current technology trends have an impact on your business?
SH: XR streaming and artificial intelligence.

HPTV: What's PIXO's long-term vision?
SH: To be the most recognized XR platform for large enterprises, leading to reducing risk and helping companies reach their financial goals.
HPTV: How has the partnership with HP Tech Ventures impacted PIXO's development, milestone achievement, and fundraising?
SH: Fundraising came at a time (right before COVID) that probably saved the company from going out of business. The funds allowed us to continue product development while enterprises were dealing with the shock of the pandemic. In addition, having tech partners at HP helped us flesh out ideas and solutions for PIXO.
HPTV: Thanks so much, Sean! We'd love to end our discussion with some fun, quickfire questions.
SH: Sounds great.
HPTV: What advice do you have for aspiring founders?
SH: Never sit still. Comfort is not a safe place.
HPTV: What's the last book you read?
SH: I just finished reading Zero to One by Peter Thiel with Blake Masters for the third time.

HPTV: What's the best vacation you've ever taken?
SH: St. Maarten with the family for my 50th
HPTV: What is a good podcast you've listened to recently?
SH: Masters of Scale with Reid Hoffman
Thanks to Sean for joining us for this thought-provoking conversation. We look forward to seeing PIXO's continued growth.
About PIXO
PIXO innovates Extended Reality solutions that make XR easier than ever to deploy, use, and manage globally.

About HP Tech Ventures
HP Tech Ventures is reinventing the future through transformative technologies that will disrupt industries and economies worldwide.