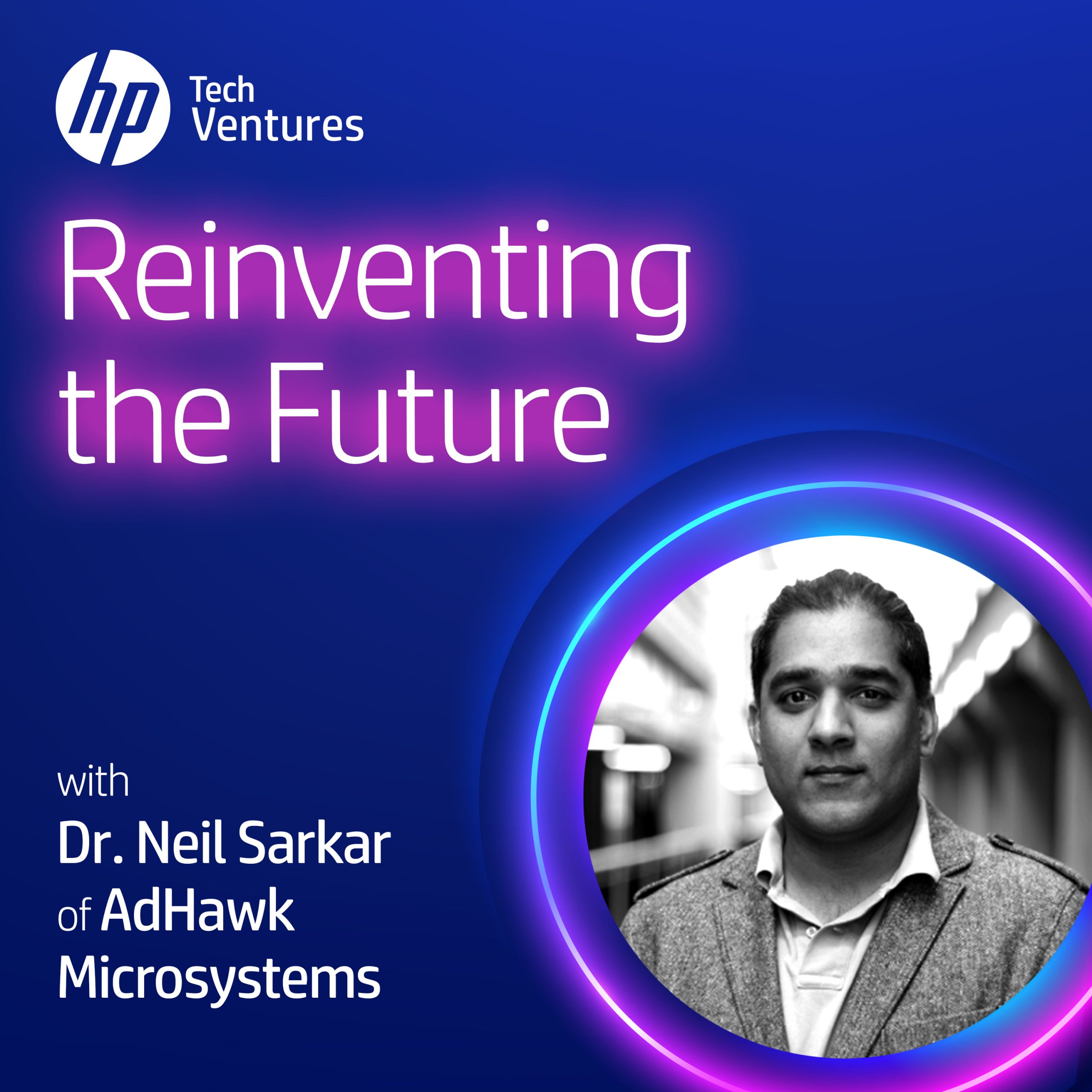 Unlocking the connection between eyes, the brain and the world around us with Dr. Neil Sarkar
November 1, 2021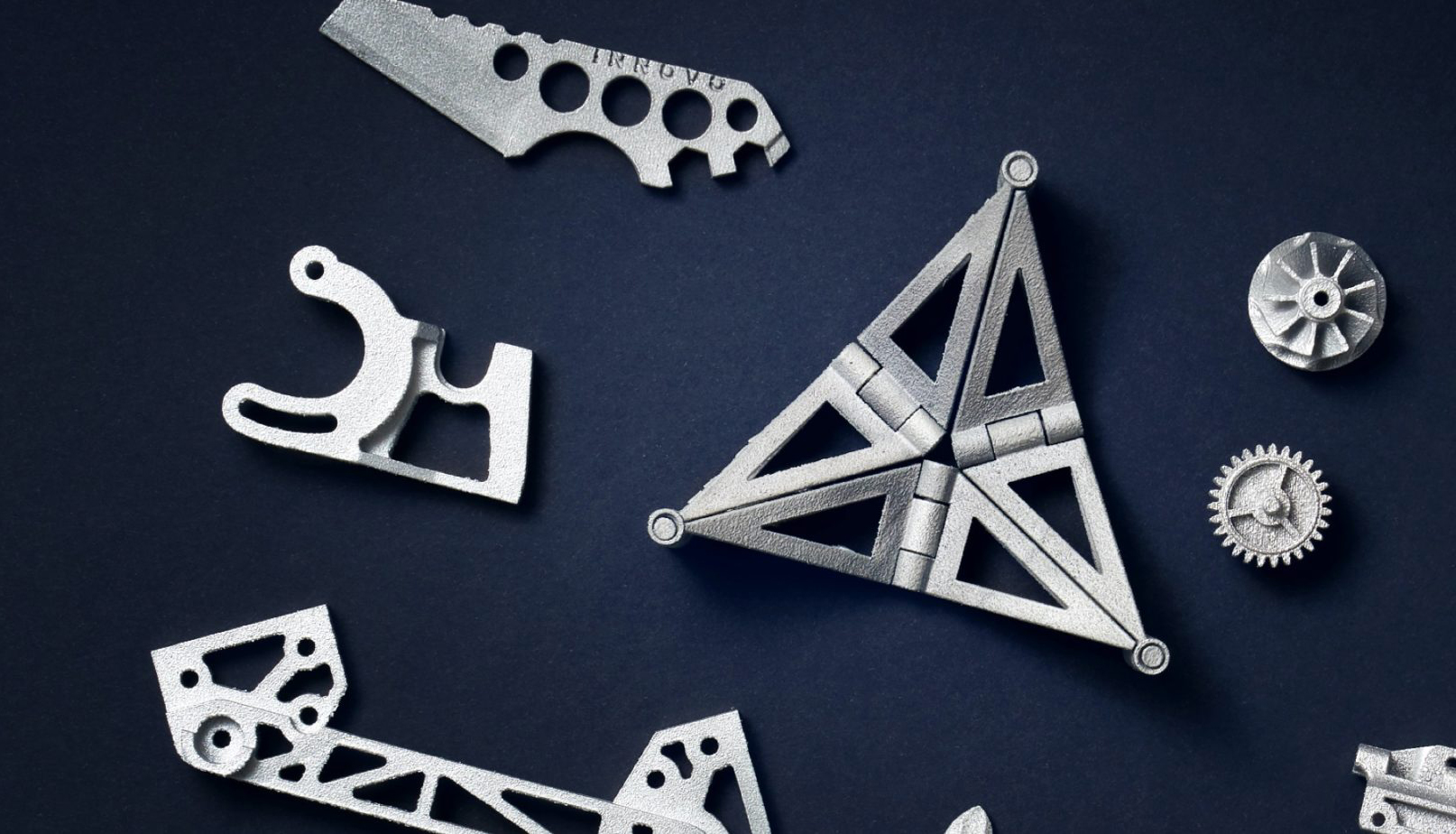 Shapeways and Desktop Metal Unveil Partnership to Increase Anytime, Anywhere Access to World-Class Additive Manufacturing Services
November 11, 2021
In this episode, Drew Perkins, CEO of Mojo Vision, discusses what it takes to succeed as a serial entrepreneur, the importance of building an effective team, and the excitement of innovative technologies that will give humans superpowers.
Mojo Vision, an HP Tech Ventures' portfolio company, is developing the world's first augmented reality contact lens, which provides timely information straight to your eyes without disrupting your focus. With an incredible team and Drew's conviction and experience, Mojo Vision is reinventing the future and creating impactful technologies that will help people reach their highest potential.
In order to truly do something big and make money or succeed in big ways, that generally requires risk. Otherwise, everybody else will be doing it. So, to succeed where other people have failed requires taking the risks. And trying, that's just the first thing you have to do. It's to try. Then you need to be smart about it and come up with the least risky way to achieve it.
About Mojovision
Mojo Vision is creating innovative technologies aimed at helping individuals reach their highest potential in work, play, and life while staying connected to people and events in the real world. https://www.mojo.vision/.
About HP Tech Ventures
HP Tech Ventures is reinventing the future through transformative technologies that will disrupt industries and economies around the world.
Episode Transcript
Bold
Bonnie Day: 00:07
Welcome to Reinventing the Future by HP Tech Ventures. I'm your host, Bonnie Day. In this podcast we go behind the scenes with startup founders and entrepreneurs who are defining tomorrow's world and experiences. We are talking innovation, their groundbreaking ideas, their big picture strategies, and how they continually adapt to our ever-changing world. Their stories will inspire you to dream big, tap into your inner innovator, and create the future you imagine.

Bonnie Day: 00:42
In today's episode we're talking with Drew Perkins, CEO of Mojo Vision, a company developing the world's first AR contact lens. Drew is a serial entrepreneur who is all about inventing the future. His current goal, to give us all some superpowers. Welcome, Drew.

Bonnie Day: 01:06
Hi, Drew Perkins. How are you?

Drew Perkins: 01:08
I'm very good, Bonnie. How are you?

Bonnie Day: 01:10
Good. I'm so glad you're joining us today. So tell me about this latest venture, Mojo Vision. You are doing some really thrilling things there.

Drew Perkins: 01:19
Absolutely. Mojo Vision is about inventing the future, period. We have invented the future, and we believe that in the future people should have access to all the information that they want just by seeing it. Whether it's in the Cloud or in their own human body, you should be able to see information without needing a mobile phone in your hand, or a laptop computer in front of you, any other device that gets between you and other people. You should just be able to have information as if you just know it. And so to realize the vision we've been building this device that we call the Mojo Lens. It's a smart contact lens. It has a built in display that only you see. You don't actually see the display, you see what the display is displaying you, and showing you, and how it's augmenting the world.

Drew Perkins: 02:01
Our goal is to give you access to information while allowing you to have your hands free, your eyes up and your head up without burying yourself in another device, and without any kind of device getting between you and other people.

Bonnie Day: 02:16
And I just love that idea that our technology can either become between us or it can join us, connect us. And you're finding this pathway where we are actually gathering all the information, and yet we are still looking each other in the eye, we're still connecting. We're still doing all the human linking that we need to do to be our best selves.

Drew Perkins: 02:41
Exactly. And our goal is to be an assistive technology to people that need assistance, that have handicaps of a variety of different types, especially visual handicaps, but possibly others, but allow everybody to have superhuman capabilities and just be able to access information without anyone else knowing it, seeing it. And they can just see that information.
Trailblaze
Bonnie Day: 03:03
For you personally, was there something about the vision that... Did something happen in your life that really triggered the vision that really inspired it?

Drew Perkins: 03:12
Yeah. I had just started my last company and I developed cataracts in my eyes. My vision was starting to fail and I thought oh, I need new glasses again. But I went to the optometrist and no, it wasn't just needing new glasses. I was developing cataracts. And so I had to have cataract surgery back in 2011 in my left eye, I think. And then in 2012 in my right eye, to follow up. And in cataract surgery they put these devices called intraocular lenses. They're small little plastic lenses. They take out the natural crystalline lens in your eye and they insert this piece of plastic. And it's the most common operation on the planet because almost everybody gets cataracts when they get in older years. But there's a genetic component too, and I got it pretty young. But it's a 10 minute operation and you come out of the operating room. You went in on your way to going blind and come out, you can see pretty well, but not perfectly. There were imperfections, certain distances that I could see and certain distances that are a little bit blurry.

Drew Perkins: 04:23
When I was growing up in the seventies one of my favorite TV shows was the bionic man, The $6 Million Man, Steve Austin. And he had this incredible vision that he could zoom in on things from long distances. I thought why doesn't that technology exist 40 years later? And darn it, I'm an incredible deep tech guy, someday I'm going to figure out how to solve that problem and give us all supervision and superhuman capabilities.

Drew Perkins: 04:56
So, that company went for a couple years, and finally I exited that company and I thought all right, time to dive in and figure out how to make true bionics and give everybody these superhuman capabilities. And Mojo was born.

Bonnie Day: 05:18
You talk about invisible computing. What does that mean to you in terms of the actual tech, and then the human meaning that it will bring to our lives?

Drew Perkins: 05:31
Our goal is to be able to let people have information without having to have an obvious device in their hand or in front of them. Let's get rid of mobile phones. Let's get rid of laptops. Let's just be able to see information as if you're looking at a screen without there actually being a screen. And we can do that through the Mojo lens. We've figured out how to do that, and we've invented that. And our goal is to, over time, literally replace every device. Every screen on every device doesn't need to be there. You don't need something showing you information if you can just see that information as if your brain is plugged in to the machine at all times. And that's what we call invisible computing, because other people won't see the device that's giving you that information. It's just not obvious. And by hiding it in a contact lens that is discreet and basically invisible, we can realize that vision.

Bonnie Day: 06:34
Have you experienced the lens yourself?

Drew Perkins: 06:38
Absolutely. I've put a number of generations of Mojo Lens on my eye already, and I'm always the first person to put it on my eye. I'm building these things and make sure that they're totally safe before anyone else experiences it.

Bonnie Day: 06:57
Share that with us. What is that like?

Drew Perkins: 07:02
The first time I did it and could see information it was absolutely mind blowing, and to just be able look around and see information. What's even more mind blowing is our technology works with your eyes closed. So if you close eyes you can still see, and that was absolutely incredible. So I'm the first person in history, as far as I know, to be able to watch a movie, a video with my eyes closed. But someday we envision that you'll go on an airplane and you'll see lots of people in their seats with their eyes closed and you think they're sleeping, but no, they're watching the movie.
Empower
Bonnie Day: 07:41
That's just so amazing. Let's talk about your team a little bit. You have quite the team, what, like a hundred patents between you? I mean, what is it like for you all to come together and to invent together? Is it just constantly building on each other's abilities and visions and excitements?

Drew Perkins: 08:06
Yeah. I've tried to build a culture at the company where everybody is empowered to invent and innovate. And we, every week, talk about what everybody's doing and let people present what their latest, greatest ideas are, and what they're working on, and really celebrate all of our success and innovation. And I think it's a very important part of our culture, and it's something that you don't get, you don't see in a lot of other places. There's many other well known tech companies that have more very draining, soul sucking cultures, as I've heard anyway. And we try to make work truly fun through the power of innovation exploration, and let people create.

Bonnie Day: 09:05
That's wonderful. And within that, is it necessary for you to somewhat incentivize playfulness, a willingness to fail, just that openness that it takes to really, truly innovate?

Drew Perkins: 09:24
Certainly. We don't always succeed. Oftentimes we try something, it doesn't work. Try again and try again, and we keep trying until you find the right path. We're path finding. We're discovering. We're researching every piece of this thing and how to make it better, and just make it work from the get go, and then keep improving it and just keep going around that cycle over and over again to come up with the best thing. And that's the power of... That's really how innovation works.
Nurture
Bonnie Day: 10:04
I wonder, do you feel like entrepreneurs are really a certain breed of cat because you just need to have that steel will and that ability to go forward blindly sometimes? Do you think that that's just a certain type of person?

Drew Perkins: 10:21
Absolutely. I've known a number of entrepreneurs in my 58 years at this point, and they have a lot of things in common. Just the courage to take no prisoners and make things happen, and damn the torpedoes, I'm moving ahead.

Bonnie Day: 10:42
So the second part of that question is if entrepreneurs are one breed of cat, are serial entrepreneurs, like you, are you even more different?

Drew Perkins: 10:51
I would think so. Yeah. Certainly a lot of entrepreneurs do one thing and rest on their laurels, or if they fail they stop and just get a job. To be a serial entrepreneur requires, most likely, failing a few times before you succeed, and understanding failure as well as success, and being comfortable with that.

Bonnie Day: 11:15
And don't you think sometimes that you learn as much from your failures or maybe more than you do from your successes?

Drew Perkins: 11:21
For sure. My first couple of companies were frankly failures, but I'd learned so much from them that luckily succeeded in most things since then.

Bonnie Day: 11:36
So I would assume that especially being a serial entrepreneur, you have this lifestyle that is very challenging, high stress. Is it something that you just thrive on, or is it something that you adapt to?

Drew Perkins: 11:52 It's something that's exciting, and exhilarating, and adrenaline pumping at most times. So I think I've always been an adrenaline junkie in my personal life, whether it's in sports or just about everything in my personal life, and business has followed suit with that. All goes together.

Bonnie Day: 12:19
And when the going gets rough, as I'm sure it does sometimes, how do you cope with that? How do you just find a way to go on and say this is worth it?

Drew Perkins: 12:30
Lots of sugar. My drug of choice is for certain sugar. Otherwise, it's just going and talking and getting advice from other entrepreneurs, and having a very big network of advisors. I once heard the term kitchen cabinet members, people in my own kitchen cabinet of just dozens, hundreds of people that I can, I got a question. I know this person. They'll have the answer. They'll have the experience. They can talk me through this, help me figure it out.

Bonnie Day: 13:11
Well, and that's an excellent point. The whole idea of having a network, of having this kitchen cabinet to go to, that's something that you didn't have when you started out, I'm assuming. And I wonder, is it something that you figured out the value of right away, or is it something that dawned on you later in life?

Drew Perkins: 13:34
Luckily somebody told me pretty early in my career that it's all about people, and no matter how smart you are you never have enough time to do everything yourself. You may be able to learn everything yourself, but you just can't do it, and you've got to rely on other people and build a team. And anything of significance, doing anything of significance, really requires a team, and the bigger it is, the bigger team it requires.
Partnership
Bonnie Day: 14:07
Let's talk a little bit about the partnership with HP. What does that bring to Mojo Vision in your opinion?

Drew Perkins: 14:17
So a number of different things. We've been very excited to be working with HP and having them as a partner. There's obviously financial aspect of it. HP Tech Ventures has invested in the company and their capital has allowed us to make a lot more progress and continue the development that we've done. But we've also had a number of discussions with different parts of HP about the future and future products. We very much hope that at some point we can have joint development and work on a joint product. We don't have anything we can talk about today, but that opportunity is there, I think. And at some point I think we will do that.

Bonnie Day: 15:04
And does it give you some sort of invisible stamp of approval?

Drew Perkins: 15:10
I think so. I'm proud to, every time I'm presenting the company to someone new, mention HP is one of our investors. That's a big stamp of approval.
Adapt
Bonnie Day: 15:29
When you think about risk, do you feel like your relationship to it is that you invite it, that you are motivated by it?

Drew Perkins: 15:43
Certainly. I once heard someone say, "Why do you go out on the limb?" That's where the fruit is. And so, you always want to try to find a plan that is the least risky. But in order to truly do something big and make money or succeed in big ways, it generally requires risk, otherwise everybody else will be doing it. So, to succeed where other people have failed requires taking the risks and first trying. That's just the first thing you have to do is try, then you need to be smart about it and come up with the least risky way to achieve it.

Bonnie Day: 16:34
Clearly the way you think in your career is very disruptive. You're always far ahead of whatever curve is coming. I'm curious, do you feel like you apply that disruptive thinking in your own life? Do you feel like there's anything else in your life that you're very unusually disruptive about?

Drew Perkins: 16:56
I have almost always been very much into sports cars, for instance, and have had a number of Ferraris over time. Currently I'm so busy at work I haven't had a lot of time to put into that, but it's been one of pleasures of my life.

Bonnie Day: 17:16
You had a very serious accident. What, about 20 years ago?

Drew Perkins: 17:23
1991, so 30 years ago now.

Bonnie Day: 17:26
Really.

Drew Perkins: 17:26
My girlfriend at the time, who later became my first wife, and I had just left a Christmas party. And we're driving on a road that was a four-lane road with a double yellow line down the middle and a drunk driver in a large van hit my sports car head on, pretty much. I woke up three weeks later. I'd been in a coma for three weeks and didn't remember the accident at all. It all just totally got zapped from my mind. But I woke up in this room full of flowers, because all my friends, and I was one of the first people active in the internet, helped build the internet, and people all over the internet came out and sent me cards and messages and flowers. I woke up surrounded by my family and all these flowers. And that was just one of those first experiences that really made me appreciate the value of people because when I was at one of the low points of my life people reached out and really gave me the will to live and-

Bonnie Day: 18:37
That's a really life altering experience to go from being completely vulnerable and literally unconscious. I would assume that it helped you evolve from there. You have this need now to help people, that is very clear in your work and in your company, and I would assume that that has something to do with it because you know what it's like to be in need of help now.

Drew Perkins: 19:03
Absolutely. Yeah. Experience loss and trauma in your own life, for at least some people, it leads them to be more compassionate and understanding. Other people just get angry and don't live good lives out of it, I think. But, in my case, I think I understand other people's drama and issues and problems, and try to help them.
Inspire
Bonnie Day: 19:33
That makes me wonder, do you try and help other entrepreneurs? Do you try and give advice? Do you try and share your learnings at all?

Drew Perkins: 19:46
Yeah. I talk to a lot of new entrepreneurs and other people, and try to share my learnings, and hopefully wisdom, with them, experiences with them. I learn a lot in the process about other people, and challenges and way they go about things in the process that I can then imply to my own situation. That's important advice I give to anyone is it's all about people. It's all about team. Be good to your people, good to your team, and they'll give you the best opportunities and chance, and chance of success.

Bonnie Day: 20:21
So in terms of the future, when you are thinking about your kids' careers, you're thinking about how it's going to look in, let's say 10 years, 15 years. What's your big, bold vision? What is the thing that you think is going to be most significant in our future?

Drew Perkins: 20:45
Really the integration of technology with biology and our own human body, and the things that technology is going to allow us to do to recover from illness, avoid illness altogether, and really have what are superpowers. And whether they're dealing with mechanical motion or senses or more information or whatever, I just see a relentless progress on building more technology that is more personal, and more attuned to our own humanity.

Bonnie Day: 21:26
Well, I cannot tell you how enjoyable it is to talk to you, because clearly you are impacting people, and I just love to learn about it. So, thank you so much, Drew, for joining us. It's just amazing.

Bonnie Day: 21:41
We've been talking to Drew Perkins, he's the CEO of Mojo Vision, and quite a guy.

Drew Perkins: 21:48
Thank you. Thank you so much, Bonnie.

Bonnie Day: 21:57
Thank you for joining us for Episode 3 of Reinventing the Future by HP Tech Ventures. Many thanks to Drew Perkins, CEO of Mojo Vision and HP Tech Ventures Portfolio Company for sharing his remarkable story with us.
Bonnie Day: 22:13 Join us next time for more inspiration from startup founders and entrepreneurs whose companies are making life better for everyone, everywhere. In the meantime, remember we all have the power to shape the future. What future will you create? Bonnie Day: 22:31 If you enjoyed this episode of Reinventing the Future, please subscribe wherever you listen to podcasts, and leave us a review.