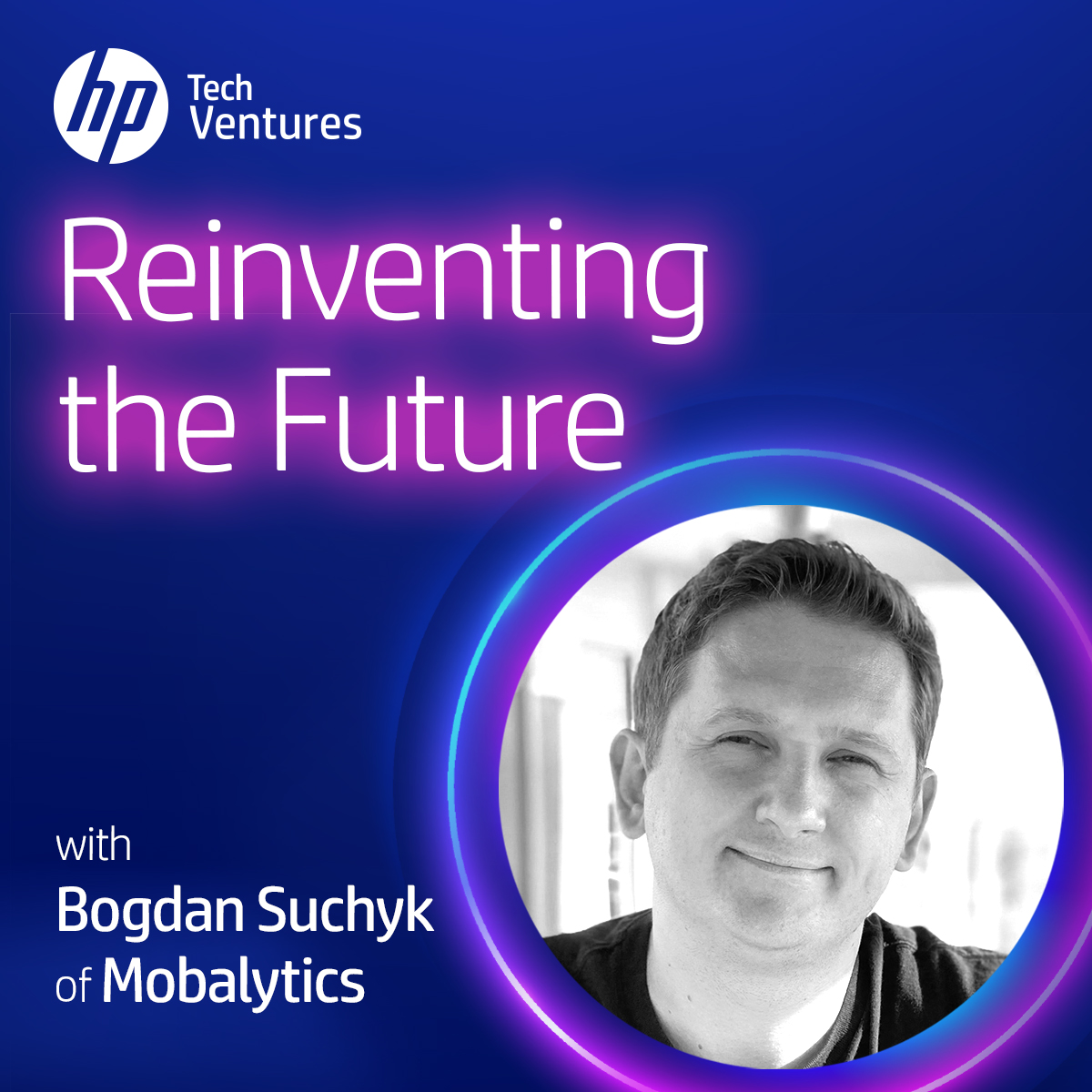 Venturing into the future of gaming with Bogdan Suchyk
November 1, 2021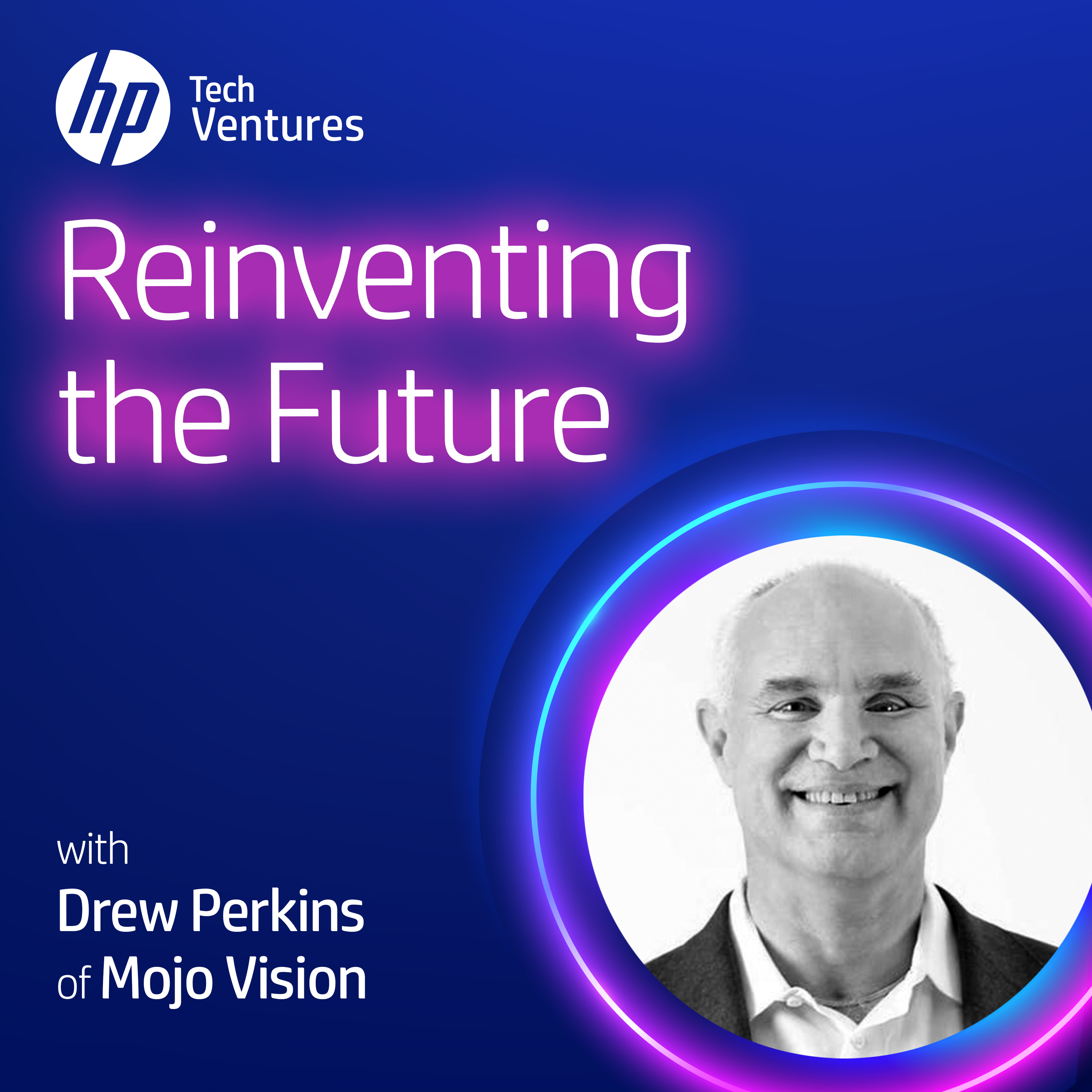 Innovating and building effective teams and success as a serial entrepreneur with Drew Perkins
November 1, 2021
In this episode, Dr. Neil Sarkar, CEO of AdHawk Microsystems, walks us through the fascinating world of eye-tracking technology, discusses his early roots in nanotechnology at the University of Waterloo, and the importance of collaboration, and nurturing innovation.
AdHawk Microsystems, an HP Tech Ventures' portfolio company, uses innovative technologies to unlock the connection between the eyes, the brain, and the world around us. With Neil's curiosity and scientific spirit at its helm, AdHawk Microsystems will undoubtedly play an influential role in the future of extended reality, gaming, healthcare, and many other industries.
When you enjoy learning new things, and then maybe even discovering new things, and you're excited about teaching them to others, that puts you in a position to make major contributions to science and humanity.
About AdHawk Microsystems
AdHawk Microsystems is creating a new standard for eye-tracking performance by replacing traditional cameras with ultra-compact micro-electromechanical systems. With this innovation, they are enabling faster, more power-efficient eye-tracking and developing technology that will help improve people's lives. Learn more at adhawkmicrosystems.com.
About HP Tech Ventures
HP Tech Ventures is reinventing the future through transformative technologies that will disrupt industries and economies around the world. Learn more at hptechventures.com.
Episode Transcript
Bold
Bonnie Day: 00:07
Welcome to Reinventing The Future by HP Tech Ventures. I'm your host, Bonnie Day. In this podcast, we go behind the scenes with startup founders and entrepreneurs who are defining tomorrow's world and experiences. We are talking innovation, their groundbreaking ideas, their big picture strategies, and how they continually adapt to our ever-changing world. Their stories will inspire you to dream big, tap into your inner innovator, and create the future you imagine.

Bonnie Day: 00:41
In today's episode, I'm joined by Dr. Neil Sarkar, CEO of AdHawk Microsystems, a company that develops eye tracking technology that helps unlock the connection between the eyes, the brain, and the world around us.

Bonnie Day: 00:59
All right. Let's talk a little bit about your company. Let's start there.

Dr. Neil Sarkar: 01:02
Sure. So, AdHawk Microsystems is a company that builds eye tracking technology that is designed to unlock the connection between our minds and the world around us by measuring, with very high resolution and very high speed, the very subtle changes in eye movement dynamics. So, you know, over the past few years, we've developed this new way to do eye tracking that doesn't use any cameras. And so, one of the big drawbacks of just trying to take pictures of someone's eyes 100 times a second and then having to do image processing on each of those pictures is that it adds a lot of computation, electrical power consumption and latency. It's not very robust to lighting conditions.

Dr. Neil Sarkar: 01:46
So, it's really been relegated to laboratory environments where researchers have done a ton of fascinating research in the eye tracking field and there's a whole field of neuro ophthalmology where they use these expensive instruments to connect eye movements to the brain. But, we want to be able to get in front of billions of eyeballs with a lightweight wearable that looks like the glasses that you're wearing. So, we had to redesign our eye tracker from the ground up and that's kind of what we're selling now.

Bonnie Day: 02:14
You came out of an academic space. What...? How did you focus in on this? I mean, I know you were innovative from the beginning, but... But, how did you focus in on the eye tracking?

Dr. Neil Sarkar: 02:24
Yeah. So, you know, this company was actually a spin-off from the University of Waterloo, where I was doing my post-doc at the time. And, we had just developed these really cool tiny chips that if you put the chip on another chip, it can capture an image of that chip with our chip with nanometer scale resolution. So, it could pick up like piconewton level forces and position things with sub-nanometer resolution. And, you know, we were excited to be able to democratize nano technologies so that a high school student could peek into the nano world, and that's how we measured our impact factor.

Dr. Neil Sarkar: 02:59
But, you know, in the academic circles, the way you measure impact factor is how many people have read your paper or are citing your paper, and that wasn't really always, I think, a good indicator that was well-aligned with myself and my peers. We wanted to somehow affect the lives of billions of people and at the time, AR and VR were taking off and we had just discovered and come up with this architecture for eye tracking and we really believed that if you can get an eye tracker in front of billions of people, then it could measure things like their anxiety, their fatigue, their neurological health, their cognitive load, and kind of give them some information about how they could improve their lives and their mental health and wellness.

Dr. Neil Sarkar: 03:44
And, that seemed to us to be something where it's like, look, if we're going to be putting in these 80 hour weeks and if we got a bunch of really smart people that love working together, why not try to work on something that has a real impact factor? So, that was kind of the impetus for leaving campus, cutting the umbilical cord with the university, and getting out into the real world.
Mindset
Bonnie Day: 04:09
You have an unusual team because it's so large, right?

Dr. Neil Sarkar: 04:14
Yeah. Our founding team included 10 co-founders, including our professor, Dr. Mansour, who was the founder of the surf lab that we spun out of. And, it's kind of because... You know, these glasses require some expertise in semiconductor manufacturing, some deep expertise in optics and optic mechanics, but then also, ID design and human factors and embedded systems and software and... And, so, we really needed a multidisciplinary set of co-founders with deep expertise, and it was great that a lot of us came from this academic background because we had this culture of curiosity and collaboration which we've managed to keep alive in the company over the years.

Bonnie Day: 04:55
Yeah. I love that. I want to hear more about how... How do you take your team...? You know, you are a large group of founders and I'm sure lots of other employees at this point. How do you take them all and make sure that the innovative spirit stays alive, stays fed, that things stay exciting and that you're still out there on the edge all the time? How do you do that?

Dr. Neil Sarkar: 05:20
So, I think... You know, those are all the good things about academic-minded folks. There are also some bad things, right? So, there are some aspects of just being able to just get the work done well enough to get your first data set so you can publish a paper and move on that we've had to really look out for and eliminate. But, I think the reason why we've been able to keep this sort of culture alive is that this data that we're getting from the human eye box is actually a platform for all kinds of questions to be asked by curious people. So, everything that humans do, we lead with our eyes, and so, there are applications in reading, in sports training, in concussion, in these medical conditions, and each of us has a passion about a certain type of thing we might be able to one day do with our eye tracker.

Dr. Neil Sarkar: 06:21
Now, we're not publishing as many papers. Mostly, what we have to do is patent. We don't go to as many conferences as we used to. And, this year has been great because a lot of the conferences have been online, so we can just kind of log in and learn from experts in the field. But, I think if we were developing technology that didn't have all of these open questions that haven't been answered yet, it would be much harder to stay curious.
Nurture
Bonnie Day: 06:45
What part do you think imagination plays in what you do? Because it feels like it would be something that would be very important, that you would have to be able to be looking ahead and visualizing in ways that you're not, things that you aren't seeing in the world right now.

Dr. Neil Sarkar: 07:01
That's a good question. So, I think having a creative sense of technology is a huge advantage in the field of engineering, especially if you're going to do something entrepreneurial, and you do have to be able to think outside of the box. But, the more you learn, the quicker you are to reject new ideas because you're like, "Eh, I've seen people try that before. It's not... It's never going to work." So, I try to suppress that inner sort of skeptic and maybe I... I take less risks, but they're more, I would say, qualified risks, compared to when I was a kid and I built an RS 232 interface out of logic chips, which, if someone proposed that to me today, I would tell them, "You're wasting your time." Right?

Dr. Neil Sarkar: 07:51
So, I don't know. It's hard to keep that creativity and spirit of trying new things alive as you get further into your education, but that's something I'm kind of cognizant of and I try to suppress.

Bonnie Day: 08:09
What do you think we can do as a...? As humans, as societies? What do you think we can do to improve the innovative spirit in people?

Dr. Neil Sarkar: 08:17
Well, I think North Americans have done one thing right, which is we've developed this culture in Silicon Valley where a founder can fail miserably at an ambitious idea and because they're familiar with the investment ecosystem and because they have some creditability, we don't hold that against them. We think that they made the right moves. They... You know, if they... If they tried really hard and then proved to their board that they were... They were serious about this vision that they had... These serial entrepreneurs exist, whereas there are some other cultures where the first time you fail is more likely to be the last time you fail. So, I think that, we did right.

Dr. Neil Sarkar: 08:59
I think STEM education is something that we're trying to fix. I think it's very important for us to make it possible at least for a curious elementary school kid to visit a lab and to use a microscope that costs a million dollars so that they get excited about it.

Dr. Neil Sarkar: 09:19
But, I think in terms of improving our health as humans, which I think is also going to be something that fuels creativity... You know, there's a professor at Georgia Tech named Professor Allen who made this analogy years ago, which is that there used to be a time where you would bring your car to the shop and you would have no idea what was going on inside it and there were some wizard mechanics that would actually have a stethoscope and they'd put it up on the hood of this Dodge Charger, then they could tell you which cylinder was misfiring. But, today, you take your car to the shop and they just plug it into a computer and the computer will tell you, "Look, the left oxygen sensor is out." So, it's... You know, cars are heavily instrumented now and when you look at Teslas, this is... You know, the trend continues.

Dr. Neil Sarkar: 10:05
So, we think that humans will be heavily instrumented and having these wearables that are constantly measuring our EKG, EEG, breathing, sleep patterns, and now, finally, mental health and wellness and deep insights into brain activity through eye tracking, it's going to enable us to always be available to call the doctor and be like, "Hey, I'm feeling a little bit like I'm at risk of falling." Or, "I'm feeling a little dizzy." And, it's like, look, the doctor's going to say, "Yeah. You know, your instrumentation has already pinged me. You are at risk of falling. We've noticed that the IMU in your glasses and the way your eyes are moving are not conjugated well, so we recommend you don't try to drive here. We'll send you an Uber and we'll check you out." Right?

Dr. Neil Sarkar: 10:47
So, we really think that having non-invasive initially, high resolution... We can't have these Fisher-Price toys, right? They have to produce medical-grade, research-grade data. But, having that on all humans is going to reduce the burden to our Medicare system and improve the health of humans.
Adapt
Bonnie Day: 11:12
Now, back to your company and the early days. In the evolution of it, have you ever had that moment where you've just had to pivot really hard, where something's just come up that was completely a surprise and you had to make a turn? Has that happened to you?

Dr. Neil Sarkar: 11:27
Yeah. I mean, you know, in the early days, we really thought of ourselves as a [inaudible 00:11:32] semiconductor company. So, we were going to develop a reference design with some chips in it and the OEMs that were making the AR and VR products, they would buy our chip set and integrate it into their product and they would develop the software for it. We found out very early on that that was naïve, that we... We couldn't just deliver a chip set. We really needed to deliver a full stack solution and that meant not just the chip, but also the embedded system that did all of the calculations on the eye position, but then also APIs, and then, above that, applications that people could use in VR to understand why is eye tracking so important.

Dr. Neil Sarkar: 12:08
And, so, as we realized how much more we had to do, the composition of our team changed. So, we weren't just a semiconductor and hardware team with a little bit of embedded experience. We really expanded the software side of things and... And, today, I would say I'm very proud of how deep and wide our expertise has become.

Dr. Neil Sarkar: 12:33
But, I guess to answer your question in terms of pivoting, I think other than having to develop the full stack solution, we were really focused on VR in the early days and that is still something that's very exciting to us and so is AR. We think having eye tracking in these lightweight glasses is going to be the difference between having a keyboard and a mouse and not with your computer. Right? But, you know, it turns out that the timeline for those products getting to really high volume was longer than most people expected. So, today, we're equally excited about opportunities in personalized medicine, health and wellness, and quantified self as we are about AR and VR, because it's just a... It's just a very broadly applicable technology, so we want to make sure that it can address the needs of multiple markets.
Trailblaze
Bonnie Day: 13:27
But, it's interesting. You know, you say, "Oh, well, we found this out and so we had to... You know, we had to make the change." But that was a huge change, to have to go from delivering a chip to delivering what you deliver. So, my question is, when things like that happen, are you able to just visualize some big goal that you have no idea how you're going to get to and then do it? Is that sort of how you work? You look at the vision and then you work backwards towards it?

Dr. Neil Sarkar: 13:54
There is certainly some of that type of planning, where our board members from HP as well as our other investors have really helped us [inaudible 00:14:03] ask ourselves the high level questions and put together road maps. But, in the early days, it was more like... It felt more like a bunch of nerds from a university getting punched in the face by people from the real world, right? So, we had a lot of OEM, very demanding OEM customers that were just saying, "Hey, look. You know, we're not even going to bother plugging this in unless you get these problems solved." And, it felt kind of like death by a thousand cuts because it was like a game of whack-a-mole. As soon as we figured out how to get it working on one type of human face, we realized that we needed to accommodate others and that population coverage and the exceptions and outliers were so important.

Dr. Neil Sarkar: 14:42
So, all of these things were very impactful learning experiences for a team that maybe had some... Somewhat of a naïve perspective. Some... At least a part of the team came from academia. But, we made some very key hires from industry, you know, veterans that understand what it takes to qualify a product so that it can actually get into industry and withstand the rigorous use cases of consumers. So, yeah. We've had a lot of setbacks.

Bonnie Day: 15:15
Which you've obviously weathered with grace.

Dr. Neil Sarkar: 15:19
Well, I would [inaudible 00:15:19]. Yeah. I wouldn't say grace. There has definitely been some very high stress times, usually about a week before every year's CES. But... But, yeah. I think where we are now, where we've positioned ourselves today with the technology, is finally somewhere where I think we can actually be deployed across billions of eyeballs. So, I think we're almost there.

Bonnie Day: 15:47
Do you consider yourself a disruptor? I mean, is that something that really...? When you're describing yourself, would you think, "I am disrupting industries. That is what I do."?

Dr. Neil Sarkar: 15:56
I mean, I don't consider myself personally to be the one doing the disrupting. I think I'm very lucky to have surrounded myself with people that have just brilliant minds and deep technical skills that could do that. But, I certainly would agree with you that I wouldn't get excited about my first startup company, which was this atomic force microscope on a chip, if it wasn't going to have a step change impact on that market, right? So, we made these microscopes which usually cost $100,000... You know, our goal was to make these chips cost $100 or less. Right? We wanted to make them so easy to use that you can just plug them in and within 30 seconds, get an image at the nanometer scale.

Dr. Neil Sarkar: 16:40
You know, you only come up with ideas like this once in a while, so if you... If you do think that there's something transformative you can do and it stands the test of scrutiny of the VCs and of your peers, it's worth putting five years into.
Partnership
Bonnie Day: 16:57
Speaking of, that's a really interesting question for me to hear the answer to, is when you do partner with someone like you have partnered with HP, what does that do for you? What does that do for your tech? What does that do for the company's experience? What does that do for the speed of innovation? What are the...? What are the impacts?

Dr. Neil Sarkar: 17:20
Huge. Hugely impactful. So, on the one hand, having a proof of concept gets you a lot of attention at the academic conferences and allows you to publish papers and it's really neat. It has a wow factor. You can go to a conference like CES or a trade show and show people a demo and it's great. But, as soon as you have a customer who expects this thing to be in production, who expects it to work so that if someone buys this from Best Buy, when they plug it in, if the eye tracker doesn't work, they're going to return it, and you can't tolerate more than 2% of your profit being returned. As soon as you have those really demanding requirements and then, you know, [inaudible 00:17:59] a privilege to get to work with HP because we got to see how their ODMs are actually taking the engineering into like the rigorous kind of qualification processes and what does it take to actually manufacture hundreds of thousands of something as opposed to a smaller amount.

Dr. Neil Sarkar: 18:21
None of that we would have had if we didn't have our customers pulling us in the right direction and showing us why we were falling short of expectations, and that really... I would say curiosity, creativity and hard work is what drove the development of the tech to the point where we were funded, but I would say customers and having great customers that are transparent and that are telling us what we need to know to improve has been the rest of it.

Bonnie Day: 18:49
Yeah. I imagine reaching your goals becomes smoother. I'm still... I'm sure there are still challenges, but I am sure it's a smoother ride when you have that kind of partnership.

Dr. Neil Sarkar: 19:02
Yeah. We wouldn't have known what needs to go into this product that we're going to be selling ourselves if we didn't... If we weren't told about what was just kind of lacking in other products. So, that exposure to what does it take to shift a consumer product has been very helpful [inaudible 00:19:20].

Bonnie Day: 19:24
Can you tell us a little bit about your first innovation, something that you remember doing as a youngster?
Humble Beginnings
Dr. Neil Sarkar: 19:30
I would say one of the earliest things that I did that was innovative was probably in elementary school when we had something like a science fair and I put together this circuit board with a whole bunch of planets that would spin around at the right speed and then spin around the sun at the right rate to try to capture the solar system for fun in grade six. So, things like that really I think indicated to my parents that I was interested in the sciences, and so, for the rest of high school, they supported me in whatever possible way to enable me to do some pretty cool subsequent science, science projects.

Bonnie Day: 20:18
Oh, that is such a great start. I love it. Sixth grade. Was everyone else going, "Wait. What about my volcano?"?

Dr. Neil Sarkar: 20:26
No, I think... You know, there was a lot of clever and curious kids in my school and I did... You know, I was kind of lucky to have a big crowd around my table for the whole event, so... So, it was a lot of fun.

Bonnie Day: 20:37
I bet. So, you're a grade school student and you just literally have a passion for invention. Correct?

Dr. Neil Sarkar: 20:49
Yeah. I would say it was a little bit frustrating to my parents because any time they bought me a toy, first thing I would do is just take it apart and I would never be able to put it back together the same way that it was at first. But, then, I think after my parents saw that science project, they realized that I was getting more out of the toy by taking it apart and trying to put it back together than just playing with it. So, that was probably the earliest indicator that I was super curious about gear boxes and motors and batteries and stuff like that. I just wanted to know how everything worked.

Bonnie Day: 21:20
Do you think there was a connective thread between all this invention that you did as a youngster and what you do today?

Dr. Neil Sarkar: 21:28
Yeah. I think I'm always most excited and sort of most motivated to pull the all nighters and put in the effort when there's something I'm either very curious about or that there's some sort of breakthrough that I couldn't have expected, and I think the rest of the team also has those tendencies of getting really excited and working really hard when they're on the verge of a breakthrough. I wouldn't say that's unique to me, but it's certainly been one of the... One of the factors that differentiates the type of work mentality that I have.

Bonnie Day: 22:09
So, last question. If... If you were to talk to a group of 10-year-olds or maybe your 10-year-old self, you know, kids, what would be the best advice that you could give right now to encourage them to embrace an innovative spirit and to be in the basement and to be creating science fair projects and to think that way, to see the world that way, to see the future?

Dr. Neil Sarkar: 22:37
Yeah. You know, I think there has unfortunately been a lot of maybe negative press around what's happening at the higher institutes of learning and sort of the cultures in academia, and our education system in North America probably is no longer one of the best in the world. We're... We're... And, I think, you know, we're essentially enabling kids of that age to spend so much time on social, on social media and requiring instant gratification that it's very difficult to imagine a time... You know, imagine these kids being able to focus on one thing for an hour a day every day for a year. And so, I think... You know, some of the things like playing tennis and getting really good at it to understand what it takes to get good at something as opposed to playing very casually once in a while for fun or playing chess or... You know, pick a hobby that you enjoy, but take it seriously enough that you can just turn off all of your devices and just do it alone for an hour a day, I think would be... Would be a good piece of advice.

Dr. Neil Sarkar: 23:51
And, another would be stay in school, right? This is something that they... They have in all the commercials, right? But, I think when you really enjoy learning new things and then maybe even discovering new things and you're really excited about teaching them to others, that puts you in a position to really make major contributions to science and to humanity [inaudible 00:24:14]. If you love learning and you love teaching, then you should stay in that environment for as long as you can.

Bonnie Day: 24:22
I love your story. I'm really super glad you joined us and I wish you so much luck. I can't wait to see what's next for you and can't wait to have your glasses on.

Dr. Neil Sarkar: 24:33
All right. Yeah. I appreciate it.

Bonnie Day: 24:34
All right. Thank [crosstalk 00:24:34].

Dr. Neil Sarkar: 24:34
Thank you.

Bonnie Day: 24:35
Thank you so much, Neil.

Bonnie Day: 24:42
I would like to thank Dr. Neil Sarkar, CEO of AdHawk Microsystems, an HP Tech Ventures portfolio company, for sharing his unique vision and his story with us. Join us next time for more inspiration from startup founders and entrepreneurs whose companies are making life better for everyone everywhere. In the meantime, remember, we all have the power to shape the future. What future will you create?

Bonnie Day: 25:13
If you enjoyed this episode of Reinventing The Future, please subscribe wherever you listen to podcasts and leave us a review.